I hope everyone had a festive 4th of July although the holiday was in the middle of the week and left us all going back to work on Thursday. Well, Michael and I had to go to work. I don't know about everyone else! We didn't let that stop us, and we were a little adventurous on Independence Day. Or let me say that we were adventurous according to our standards ;)! We traveled to Georgia where our friend Lindsey's parents live, and we hung out at the pool and cooked out before going to our first Braves game. The Braves lost to the Cubs, but it was still a great time. They had an amazing fireworks show after the game that was better than expected! After the game, the adventure felt a little less adventurous and a little more irresponsible as we drove back home and didn't get into bed before 2:30 am only to get up a few hours later!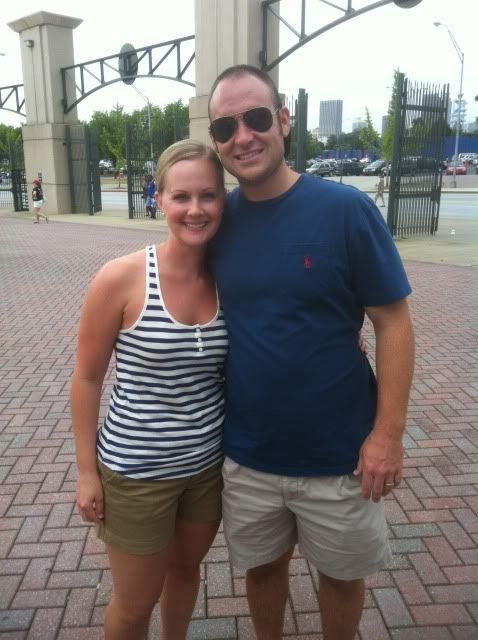 Michael and I at the game!
Baylee, Lindsey, and me before the game. I love these girls, and I'm glad we work together!
Now an even bigger adventure for Michael and I began today! This one is big!!! We drove half way to Arkansas and met my mom, two aunts, and my little cousin Steven who they handed over to us for the week. Yep, Michael and I are parentals for a whole week to a 9 year old boy. I don't know who needs more prayers, him or us! I am happy to have him here to visit, and we have a lot of fun things planned for him. It was also nice to see my mom and aunts. We ate at this great place in Holly Springs, MS called Philips Grocery. It is a converted nineteenth century saloon turned grocery store turned hamburger joint, and we enjoyed it!
My mom and her two sisters Donna and Paula at Philips Grocery
After eating lunch, we drove back to Birmingham with Steven. We went grocery shopping then came back and headed straight for the pool before dinner. I think he's having fun!